Wine & Food on the Grande Ronde River
May 24 - May 26, 2022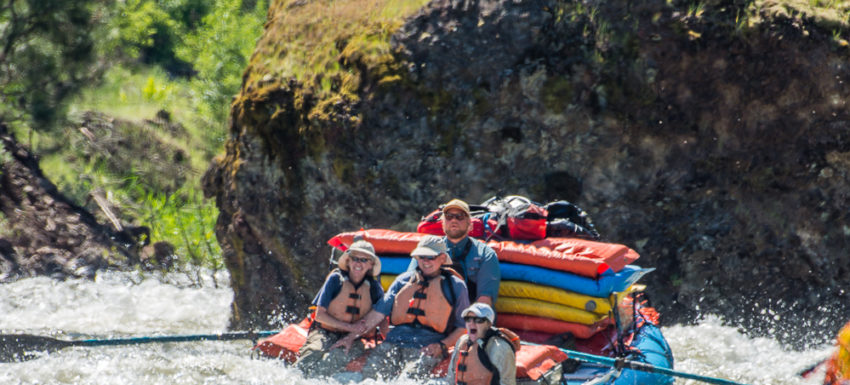 Dunham Cellars has once again teamed up with Minam Store Outfitters to provide a Wine & Food on the River experience for our best customers. This exclusive trip takes place May 24-26 and will be filled with beautiful wines poured by John Blair & Rob Campisi, great friends, delicious food, and a 40 mile float down the Wild and Scenic Wallowa and Grande Ronde Rivers.
Space is very limited for this all-inclusive experience, so book soon!

---
About the Trip
Launching a boat at Minam begins a journey through a 40 mile roadless canyon on the Wild and Scenic Wallowa and Grande Ronde Rivers. With the beauty of a mountain stream, forested hillsides give way to layers of basalt rimrock and banks lined with cottonwood, alder, mock orange, and service berry that fill the air with a sweet fragrance. The roadless Wallowa and Grande Ronde river canyons offers better wildlife viewing than any other river we have floated with bighorn sheep, mountain goats, elk, deer, black bear, otter, and eagles a common sight. Let the abrasive, distracting sounds of the modern world slip away for a few days while the sounds of the river take over. There is nothing better for the mind and soul than a river trip down a roadless canyon where the natural rhythms of life are uninterrupted.
The Wallowa and Grande Ronde River allows for a family friendly guided rafting trip where Class II rapids offer some splash, but not a lot of difficulty. This guided multi-day whitewater rafting trip on the Grande Ronde is 3 days and 2 nights beginning at Minam and ending at the Mud Creek takeout 6 miles upstream of Troy, Oregon.