White Cheddar Drop Biscuits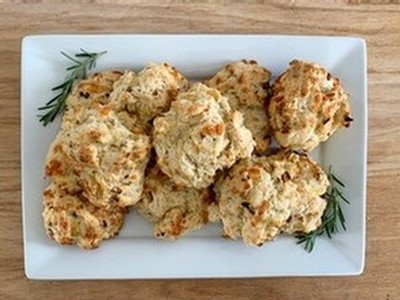 Ingredients
3 cups all-purpose flour
1 tbs baking powder
1 tbs sugar
1 tsp salt
¾ tsp cream of tartar
¾ cup butter
¼ onion, chopped and caramelized
1 ½ cup grated sharp white cheddar
1 tsp freshly chopped rosemary
1 ¼ cup whole milk
Preheat oven to 450°F. In a large bowl, combine flour, baking powder, sugar, salt, and cream of tartar. Using a pastry blender, cut in butter until mixture resembles coarse crumbs. Stir in onions, cheddar and rosemary until well incorporated.
Make a well in the center of flour mixture and add the milk. Using a fork, stir just until mixture is moistened. Using a large spoon, drop dough into 12 mounds onto a greased baking sheet.
Bake for 12-16 minutes or until golden. Remove biscuits from baking sheet and serve warmed.