Sausage, Gouda & Bell Pepper Strata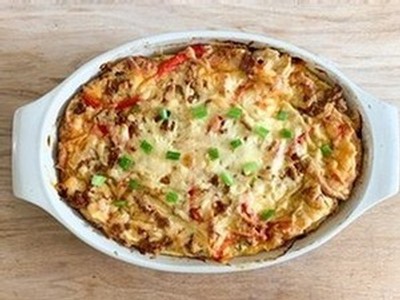 Ingredients
6 large eggs
2 1/2 cups whole milk
2 cups sliced green onions
1/2 cup whipping cream
1/2 cup finely grated Romano cheese
2 tbs chopped fresh oregano
1/2 tsp salt
black pepper to taste
1 lb hot Italian sausage
1 large red bell pepper, halved, seeded, cut into 1/2" wide-strips
One 1lb loaf rustic French bread, cut into 1/2" thick slices
2 cups (loosely packed) coarsely grated gouda cheese
Preheat oven to 350°F. Butter 13x9x2" ceramic or glass baking dish. Whisk first 7 ingredients in large bowl; sprinkle generously with pepper. Set aside.
Place sausage in large nonstick skillet; push to one side. Add bell pepper to other side of skillet. Sauté over high heat, breaking up sausage with fork, until sausage is cooked through and bell peppers are brown in spots, about 7 minutes.
Arrange half of bread slices in prepared dish. Pour half of egg mixture over. Sprinkle with half of cheese, then half of sausage pepper mixture.
Repeat layering. Let stand 20 minutes, occasionally pressing on bread to submerge. Bake strata until puffed and brown, about 1 hour. Cool slightly.